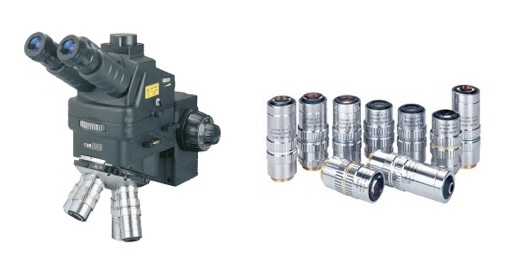 Constructed around specially coated optics and geared for inspection and laser work [355nm – 1064nm] in one system, the PSM-1000 employs a series of features to facilitate both functions. The PSM-1000 can be quickly converted from optical inspection to laser work by utilizing the 3-lens changeover turret and the beam splitter. The 3-lens changeover turret permits the user to select the spectrum to operate in or simply to magnify the image 2X [2000X maximum magnification with a 100X objective], whereas the beam splitter removes the optical prism to achieve the maximum transmission of the laser pulse. Current transmission efficiency tests put the PSM-1000 at 82% in the 1064nm spectrum.
Precise movements are crucial either when using a laser or inspection wafers or flat panels at high magnifications. Even with a resolution of 1 mm, the PSM-1000's focusing block can handle mounted weight up to 45 lbs. The total stroke for the focusing block is 50mm with the option of being reversed for greater use of space.
The PSM-1000 is equipped standard with an adjustable forward-facing nosepiece. The mechanism of the nosepiece allows you to parcenter the objective by inserting two parcentering keys above the objective for convenience and speed. Gone are the days of hunting and pecking with a hexagon key!
Features
•  Laser ready for 355nm to 1064nm spectrums
•  Up to 2000X magnification
•  1 mm resolution and 45lbs mountable weight focusing block
•  Convenient parcentration
To further assist your understanding of the PSM-1000, the following are some sample applications for the PSM-1000.
Manual/Semi-Auto Probe Station: Originally designed and intended for semiconductor prober industry, the PSM-1000 performs the task of both the optical inspection unit when viewing the connections on a wafer, and the laser delivery system for correcting connections.
Inspection Station: Employing the PSM-1000 with a stand of your choice, the PSM-1000 easily converts into an inspection station for head engineer's random spot checks or further investigation.
Laser Repair Station: Operating similar to the inspection station, the laser repair station utilizes a stand of one's choice with a laser mounted on top of the PSM-1000.
Flat Panel Inspection System: Using the head only option of the PSM-1000, the microscope would be mounted to a computer controlled, motorized focus block, then positioned on a gantry to move linear across the panel.
Download a PSM-1000 BROCHURE.pdf brochure.
Download a brochure on the PSM-1000 objectives  PLAN APO BROCHURE.pdf