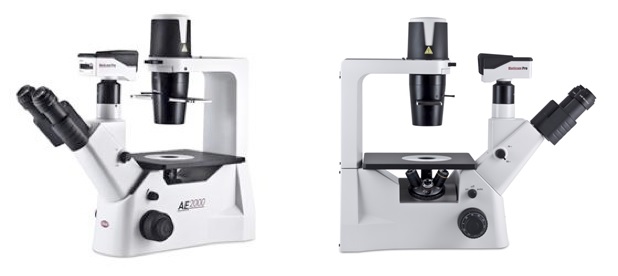 Motic AE2000 Binocular and Trinocular Inverted Microscopes is designed for routine live cell inspection with an easy and flexible set up, ideal for University, routine-clinical, and lab environments. The model's main applications offer superior image quality when viewing cell cultures in microbiology, living organisms and tissue culture samples.
The newly designed Binocular Ergo tubes with 360° swiveling "butterfly" design and optional telescopic feature offers the most comfortable observation position, especially useful for prolonged sample viewing. The auto on/off function of the power supply extends the lifespan of the sample and light bulb and at the same time saves energy. Another added feature, a modular interchangeable illumination concept, allows for the easy transition from Halogen to LED to fulfill a wide-range of customer viewing expectations. The improved phase contrast quality of the model makes the instrument suitable for a greater range of applications that demand precision optics.
The entire microscope including optical system is manufactured now completely Lead Free, following the International RoHS regulations.
Download an Motic AE2000.pdf  brochure.