LSM-NLO
Your Flexible Laser Scanning Microscope for Multiphoton Imaging.
Open up the world of multiphoton imaging with ZEISS LSM 710 and LSM 780 microscope systems, used in combination with the NLO add-on.  On top of all around laser scanning microscopy, you see fluorescently labeled structures down to a depth of one millimeter in living tissue.
Detect spectral emission signals of your multi-labeled sample simultaneously with the 32-channel internal detector. Use up to 10 external non-descanned detectors. With this information, you separate signals reliably and produce highly detailed images that are rich in contrast.
LSM 700
Confocal Laser Scanning Microscopy with Superb Image Quality
Perform fluorescence measurements, create optical sections of your samples and combine them into 3D image stacks. ZEN imaging software shortens the training period and stores the settings for all users in your team. Your confocal laser scanning microscopy applications will also benefit from Smart Setup. This new software feature allows easy configuration of new experiments with optimized recording settings. The compact design of LSM 700 means you will always have room for it in your work environment.  Combine your LSM 700 with the upright microscope stand Axio Imager 2, inverted Axio Observer or the fixed stage microscope Axio Examiner for complete flexibility in your live cell imaging or photomanipulation applications.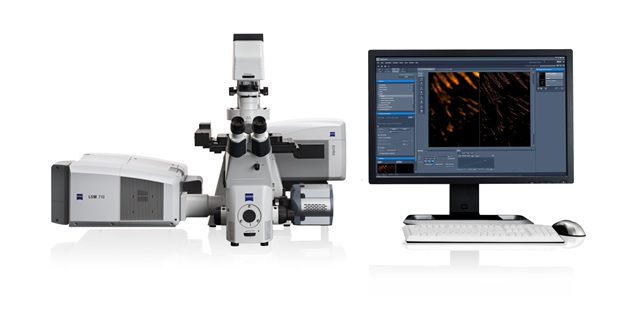 LSM 710
Experience Freedom with Your Dyes and Applications
The new illumination and detection design of LSM 710 brings complete freedom to your fluorescence microscopy. You work with up to ten dyes and use continuous spectral detection across the complete wavelength range. LSM 710 enables confocal microscopy for a wide variety of applications.
With the inverse Axio Observer from Carl Zeiss, LSM 710 offers you unrivaled confocal microscopy in cell and developmental biology. Upright stands such as Axio Imager or Axio Examiner offer you have all the equipment you need to record neurobiological, physiological and developmental relationships to an exceptional standard.
LSM 710 gives you flexibility, allowing you to perform confocal microscopy in exactly the way you need.
CONTACT FOCUS PRECISION INSTRUMENTS FOR MORE INFORMATION ON THESE INSTRUMENTS.