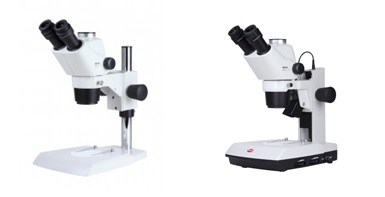 The SMZ-171's optical performance combined with its expanded accessory line makes it an ideal instrument for the demanding requirements for both routine and research stereomicroscopy. From biological and medical preparations to industrial quality control and inspection, the SMZ-171 will deliver repeatedly clear and distortion-free images.
The Next Generation Stereo Microscope
ESD and non ESD version
New Lead free optical design
Greenough optic system
Compact and rugged
The optical system comes with a large-scale zoom range of 6.7-1.  The standard magnification range is 7.5x – 50x when used with 10x eyepieces, parfocal at all magnifications; magnification may be increased to 200x when a 2x auxiliary lens is used in conjunction with 20x eyepieces.  Standard working distance is 110mm; the SMZ-171 can be configured with a working distance range of 38.6mm up to 301mm.  A five position click stop continuous zoom mechanism enables precise reproduction of magnifications for accurate measurements when matched with a digital camera or eyepiece reticles.  The standard 10x eyepieces have a field size of 23mm, a class leader.
The SMZ-171 may be mounted in track, pole or boom stands, depending on your specific requirement.