The KH-8700 Digital Microscope from Hirox is an all new platform which delivers fast, high quality
images with even faster processing speeds.  A 21.5" Full HD LCD monitor (1920 x 1080) is integrated into the KH-8700. It is one of the top grade high intensity pixel reproduction monitors displaying 16.77 million colors, a contrast ratio of 1000:1, and brightness of 300 cd/m2. Monitor size has increased 80%, with a new aspect ratio of 9:16 instead of 3:4. The new aspect ratio allows our new software platform main menu and other function keys not to overlap with live images.
All-in-focus Image
A key advantage in the line of Hirox digital microscopy is the ability to easily and quickly autos focus an image. Auto focusing an image at a rapid rate is due to our 0.05 micron pulse motorized z axis. All one has to do is double click the desired location on the monitor and the high speed software does the rest by automatically selecting the optimal focus point.
High Dynamic Range (HDR) – Real Time
High Dynamic Range, an essential observation technology based on a Hirox original algorithm, reproduces a dynamic shutter range as a visual image. This function provides results through blending both the low and high boundaries of an image to give a clear and balanced result.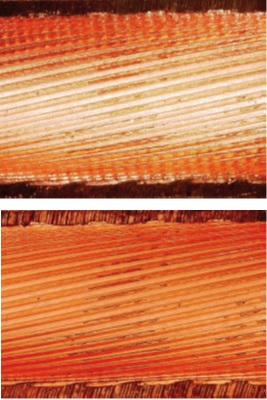 Results with No Human Error
The Auto Calibration Select (ACS) sensor automatically applies the proper lens settings with each magnification or lens change, completely eliminating the need to choose proper calibration values. When a lens / mag is changed, the ACS feature also adjusts the z-axis speed / steps coinciding with the preferred lens' camera setup.  Incorporating various measurement technologies such as a highly accurate 3D measurement function, the KH-8700 outputs many values to answer your needs and objectives. In addition, the increased accuracy of measurement functionality has improved the usability for smarter and simpler operation.
2D Measurement – Measurements including length, area, and surface area can be taken in various styles. Using only mouse operation, the object on the monitor can be measured in real-time. In addition, the actual dimension and measurement results can be saved on the capture image or as a CSV file.
Fastest System to Create a 3D Model
When capturing 10 image planes, it only takes 4 seconds to display a high quality 3D model. The integrated stepping motor allows for faster, smoother, and more accurate scanning with 0.05 um/pulse precision and 30 mm of automated travel. Paired with the CT-R01, controlling focus manually is a thing of the past.
Roughness Measurement (Ra, Rz, Rzjis) – Engineering advances in the KH-8700's software
includes profile line Roughness measurements giving the end user more quantitative data than before.
Level Correction – The level correction feature gives the end-user the ability to adjust the surface on the image without touching the sample.
Noise Filter and Reduction – The advanced Noise Filter reduces unwanted static and provides a more clear image.
Export 3D Models Files by CSV Format – The 3D models can be exported as a CSV fi le format into any other 3D analysis application software.